Driving Efficiency & Flexibility in your Facility with Central Chilling Systems
Sponsored by Sterling
Learning Objectives:
Explain how energy efficiency is achieved with floating head pressure.
Explore how equipment modularity can maximize floorspace utilization.
Discuss how to strategically manage CapEx for future growth. "Invest in today, expand in the future."
Discover how to maximize uptime with redundancy within process cooling equipment.
Credits:
BNP Media has met the standards and requirements of the Registered Continuing Education Program. Credit earned on completion of this program will be reported to
RCEP.net
. Certificates of Completion will be issued to all participants via the
RCEP.net
online system. As such, it does not include content that may be deemed or construed to be an approval or endorsement by the RCEP.
This course may qualify for continuing education through the NYSED. For further information, please visit the NYSED website at
http://www.op.nysed.gov/prof/pels/peceques.htm
.
This course may qualify for continuing education through the FBPE.
This test is no longer available for credit
Industrial process cooling using central chilling systems can save individual operations as much as 60 percent in energy costs — while also helping companies establish a positive corporate social responsibility reputation for going "green."
In today's hyper-competitive market, manufacturers cannot afford to overlook innovative processes and new technologies that help minimize production costs, improve the company's competitive position and strengthen the bottom line.
Discover how central chilling and other engineering advances in chiller systems can maximize floorplan utilization and save in initial CapEx spend through modular design, system redundancy and equipment flexibility.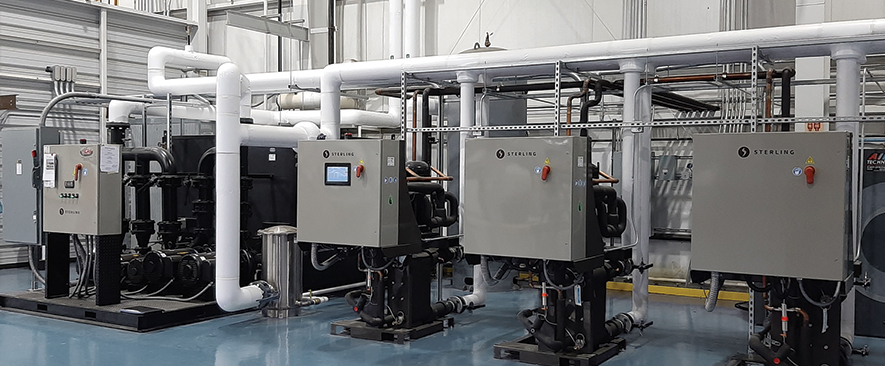 | | |
| --- | --- |
| | Kyle Nelson, senior product manager of process cooling and new product development, has been a senior product manager with Sterling for three years. He has more than 13 years of experience driving new product development in industrial and commercial markets. His expertise in launching new technology in temperature control and process cooling systems has led to significant advancements in Sterling's ability to serve customers. Kyle holds a bachelor of science in mechanical engineering from the Milwaukee School of Engineering (MSOE) and has completed his master's degree in business administration. |
| | |
| --- | --- |
| | Sterling provides a wide range of cooling solutions for multiple industries including plastics, food & pharmaceutical, packaging, chemical, printing, and machine tool markets. With a full offering of chilling equipment, pump tanks, blown film coolers, cooling towers, and full chilling systems, Sterling has the solution for your industrial cooling needs. From modular and expandable central chillers to distributed packaged chillers, Sterling experts can recommend the most efficient and cost-effective chilling system for your unique operation. Sterling offers the technologies necessary to advance uptime and performance in your operation. Engage with our experienced team and utilize our tools to evaluate your expected system loads, load characteristics, energy usage, and climate related challenges to discover your optimal process cooling solution. Count on Sterling to bring you all the technologies you need to advance uptime, energy efficiency and performance in your operation. As the industry leader, Sterling provides the largest line of process heating and cooling TCU's, chillers, and cooling systems. To learn more, visit www.sterlco.com or call 262-641-8600. |
Notice