Additive Manufacturing and Heat Treatment of AM Parts
The flexible nature of heated 3D
Provided by Industrial Heating
Learning Objectives:
Describe how hot isostatic pressing (HIP) treatment helps densify metal in the AM process.
List ways in which vacuum heat treating ensures AM components work properly.
Explain how industry (e.g., forging) can use the emergence of AM as an opportunity.
Identify strategies for optimizing powder properties in the AM process, especially in the aerospace industry.
Credits:
BNP Media has met the standards and requirements of the Registered Continuing Education Program. Credit earned on completion of this program will be reported to
RCEP.net
. Certificates of Completion will be issued to all participants via the
RCEP.net
online system. As such, it does not include content that may be deemed or construed to be an approval or endorsement by the RCEP.
This course may qualify for continuing education through the NYSED. For further information, please visit the NYSED website at
http://www.op.nysed.gov/prof/pels/peceques.htm
.
This course may qualify for continuing education through the FBPE.
Below are a set of links to articles from Industrial Heating. Click on each link below to read the articles and then complete the quiz to earn your credit and certificate of completion.
Additive manufacturing (AM), aka 3D printing, has become a popular technology in many industries where flexible designs are desired. Heat treatment of AM parts is often key to the process. This course looks at the general AM process and explores the ways in which heat treatment reverses internal stresses in the material and optimizes the properties of the printed products.
Heat treating 3D-printed metals
3D-printed components destined for use in aerospace, nuclear, gas turbine, marine or medical applications will require an additional hot isostatic pressing (HIP) treatment to fully densify the metal, eliminating pores that can lead to catastrophic failures. New HIP technologies are making it possible to accomplish heat treatments in the same vessel where the HIP takes place, making for a faster, cheaper and more energy-efficient manufacturing process.
Holly Martin
The advantages of heat treating metals following additive manufacturing
The additive-manufacturing (AM) process involves turning 3D CAD files on computers into finished products layer by layer but happens after the printing phase also matters. Recent testing has provided some essential information regarding post-printing treatments, specifically the role that vacuum heat treating plays in minimizing contamination and ensuring that components perform properly.
Alessandro Fiorese
Vacuum heat treating of 3D-printed components
As AM, or 3D printing, continues to evolve, many challenges still plague this new technology. Since AM parts display vastly different mechanical behaviors compared to conventionally produced parts, it is logical that heat treatments associated with this process also vary and require good communication between manufacturer and customer.
Robert Hill
Will additive manufacturing threaten the forging industry?
AM is a disruptive technology that has evolved during the past 30 years from the creation of plastic parts to metal part creation via several new and evolving metal-deposition technologies. The techniques are providing serious options for the production of metallic parts, meaning forge shops must keep a watchful eye on this unfolding technology, both as a competitor and as an opportunity.
Jon D. Tirpak
Producing quality metal parts with additive manufacturing
It is an exciting and quickly changing time for metal AM in the aerospace industry. Partnering with a trusted independent testing laboratory can help you make sense of changing standards and help you understand how to optimize your powder properties and processing parameters to produce quality 3D parts using select laser melting (SLM) and electron-beam melting (EBM).
Cynthia Hagan and Larry Somrack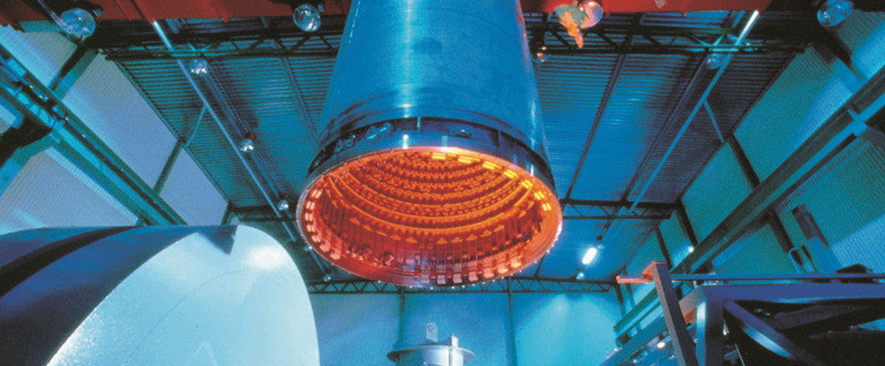 Photo Courtesy of Bodycote
HIP vessel lowered into place
Originally published in Industrial Heating
Notice